How to Create a Right SEO Title
We use this template for all our websites
Key-Phrase (High Searches) | or - Key-Phrase (Sub Keywords with any Relevant Word) | or - Brand
Main Rules for Title
You can use the symbol "|" only two times.
You can change the symbol "|" into "-"
Use only high searches key-phrase at the beginning of a title.
Try to use all words from all key-phrases.
Don't Repeat the same key-phrases.
Use only one variation of Brand writing.
Use maximum 65-70 characters
Use Google Keyword Planner understanding key searches
Samples of Bad Titles:
Rent a Car |1 Car Hire Dubai |2 Rent a Car in Dubai |3 Al Emad
Crane Company |1 Crane Rental Company |2 Heavy Equipment Rental |3 Al Faris Group
Best Hospital |
1
Medical
Clinic
in
Dubai
|
2
British Hospital |
3
Dubai
London
Clinic
Samples Good Titles:
Rent a Car in Dubai – Cheap Car Hire Monthly – Al Emad
Crane Rental Dubai | Heavy Equipment Rental and Maintenance | Al Faris Group
Medical Center in Dubai | Best British Hospital | Dubai London Clinic
How to Create Right Meta Description for SEO
Use maximum 130-140 characters.
Use other key-phrases which you did not use in Title or use synonyms.
Make unique Description. Use detailed information about products or services. One unique description for each page.
Don't use generic descriptions like "Page about rent a car service".
Don't fill a description with only keywords.
Don't copy and paste the entire content of the page into the description
Don't repeat a title or part of a title.
The Sample of Bad Description:
If you want a car for rent in Dubai, head over to Al Emad as we have budget rent-a-cars that will suit your needs. We have a large fleet of vehicles and the process of car rental can be done online at the click of a button. For a long term, low-cost car hire in UAE, you can rely on us.
It's a very long and generic description. We don't see any detailed information about Al Emad.
The Sample of Good Description:
Car rental company located in JLT. More than
300 budget and luxury cars
for rent from
AED 1350 per month
.
Great deals
,
delivery and pick up
for car hire in Dubai.
How to check Google Searches
1. Open https://ads.google.com/intl/en_ae/home/tools/keyword-planner/
2. Click to "Get search volume and forecasts"

3. Add each keyword from a new line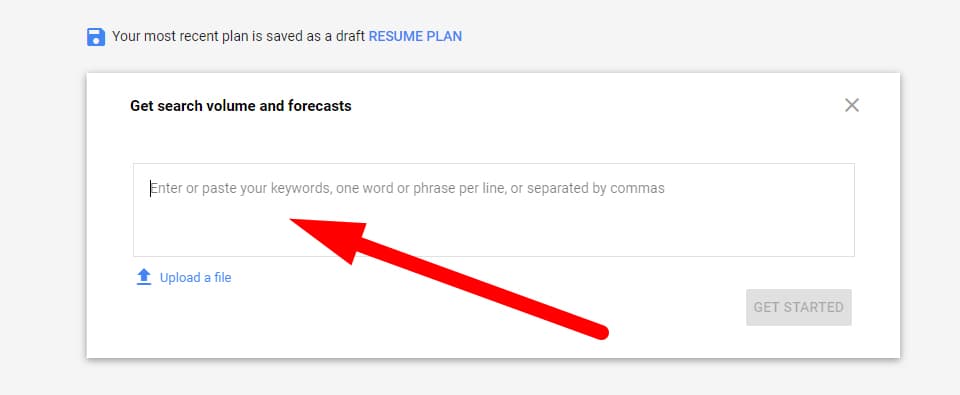 4. Sort by Impressions.