Speedy Growth of B2B Company With the Right SEO Strategy – 50+ Keywords in 10 Months
Whether you need commercial cleaning equipment or cleaning chemicals to get the job done, Al Nojoom Cleaning Equipment LLC has you covered. Established in 2010 and backed by a specialized team, they have garnered a reputation for delivering unparalleled quality to customers across the region. Their wide spectrum of high-quality supplies makes them a preferred and trusted cleaning equipment supplier in UAE. They have extensive experience and product knowledge to support the diverse needs of numerous clients in a broad range of industries.
How It Began?
It all started with an idea for a website to achieve rankings and be on the first page of the Google SERP. Given how competitive the industry is, it was very important for the team to draw up a strategy in order for traffic to grow as quickly as possible so that the project pays off.
Service: Search Engine Optimization
Niche: Cleaning Equipment
SEO region: UAE
CMS: Joomla
Initial data
Al Nojoom Cleaning Equipment was in search of a long-term partner to help improve their online visibility organically. While the domain wasn't new, the link profiles were of poor quality and had extremely low backlinks and organic traffic, which further affected the Domain Rating and overall website.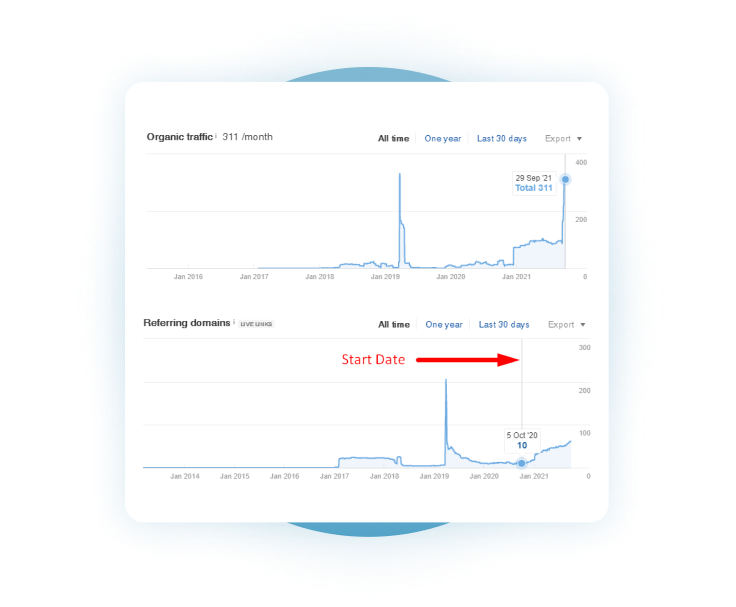 What Was Our Goal?
Any project without a goal is futile. Therefore, before proceeding, our team brainstorms with the client to understand their goals for the project. In this case, Al Nojoom struggled from a lack of important high-conversion keyword visibility in organic search as well as relevant traffic to the website. So, we needed to create an in-depth content strategy paired with on-site optimization and off-site link building techniques. We also ensured to use white hat SEO strategies through all stages to achieve rankings organically.
SEO Strategy
1. Technical Optimization
Our SEO expert performed an SEO audit on their website to identify key issues as well as areas for improvement. These include visual artefacts, bugs and errors.
Key Issues:
Poor quality UI/UX.
Pages were incorrectly redirected, further affecting the entire site.
Images were not optimized for size and quality.
Low page speed score.
Duplicated content on pages.
Solutions:
Introduce an effective strategy to improve the website's UI/UX.
Redirected pages to the correct site.
Optimized image sizes.
Added CTA buttons on the mobile version to increase conversions.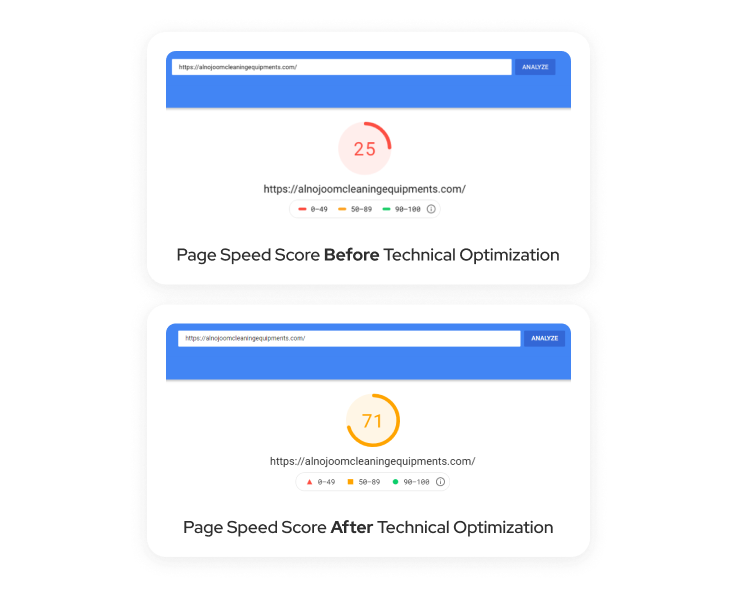 2. Keywords Research and Competitor Analysis
When working on an SEO project, Keyword Research is the first and most significant stage. We use a Keyword Analysis tool to determine which keywords are the most effective and profitable for the client's business.
Ideally, keywords are selected based on the services and products offered by the client. In this case, we chose the keywords based on the prioritized products that the client wanted us to focus on. We even conducted a competitor's analysis to understand the highly searched keyword better.
The result highlighted below includes the #1 main targeted keyword for the client's website. You might be wondering why have we chosen this keyword despite the low searches? As they are a B2B business, this keyword is relevant to them and will help receive the right leads, further converting to a sale.

3. Content Creation
When creating a content strategy, our plan is simple – to develop well-structured and compelling content to reach our target audience organically, removing the need for excessive outreach and paid promotions. Al Nojoom Cleaning Equipment partnered with BEONTOP for a tailored SEO strategy to improve their leads and sustain a strong online presence. As a B2B business, we focused on keywords that would help them achieve top position on the SERP.
Key Issues:
Improper headlines on most pages.
No H1 on most pages.
Pages had minimal to no text.
Minimal online visibility due to low Google search rankings.
Wrong structure of headline placement.
Missing title tags.
Missing description tags.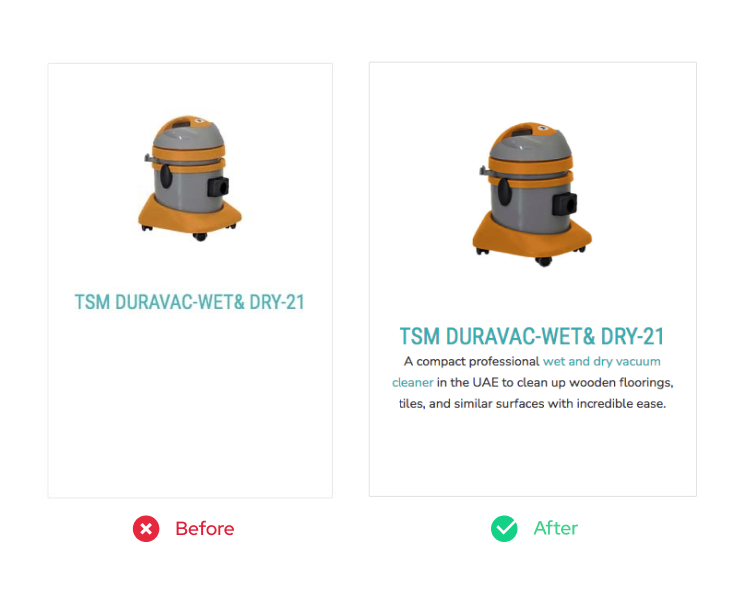 Solutions:
Improve their website with SEO elements and develop a tailored SEO strategy to drive more organic traffic.
Update the website with an optimized home page, create landing pages, and add content on all pages (including non-optimized pages).
Monitor high traffic keywords.
Optimize images for size and quality.
Optimize URL structure to ensure its short and relevant.
Prepare a neat layout for each page, including usage of right headings, sub-headings, and page-breaks.
Prepare unique Meta Tags (Meta Title and Description) for each page on the site.
Integrate LSI terms and TF-IDF terms within the content.
Update existing content on the website.
During the audit we found many empty pages on the website. We added text content across all pages along with internal links to boost the positions of the keywords.
4. Backlinks
We analyzed the competitors' websites and their external links to understand how to get through their ranks on Google and get our website on the 1st position in SERP on most of the keywords.
Our Backlink strategy was to concentrate on the quality of backlinks rather than quantity. We decided to create 30 external backlinks every month, targeting 40% of them with the anchor and brand name and 60% on the targeted keywords. We also created 3 links on our private network of sites, targeting the most competitive keywords using exact match anchor texts. In less than nine months, nearly 95% of the keywords are on the 1st page in Google.
Results
We have a track record of generating excellent search engine rankings for our clients when it comes to SEO and marketing. The following result for the term "Cleaning Materials Suppliers in Dubai" back up this assertion.
1. Keyword Ranking

2. Organic Traffic Growth
Backlinks can increase traffic to a website by 10 times. By publishing high-quality content on highly valuable and relevant sites and with link building alone, referring domains of the website increased dramatically from 0 to over 300. The images are a result of our white hat SEO strategies.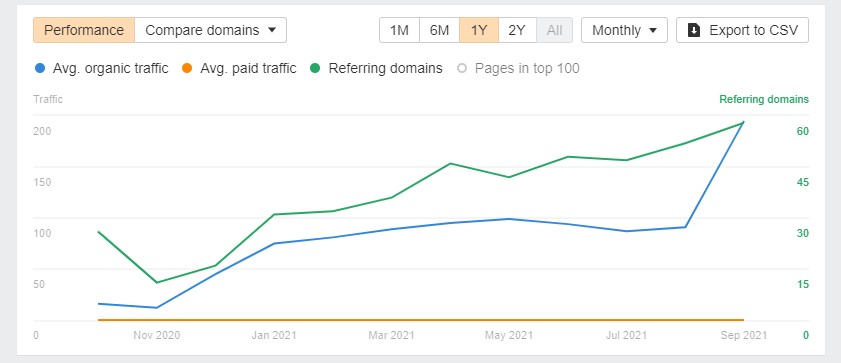 You may have noticed that organic traffic has increased slightly. This is primarily owing to the fact that it is a B2B company, therefore drawing a relatively smaller number of visitors as opposed to a B2C company.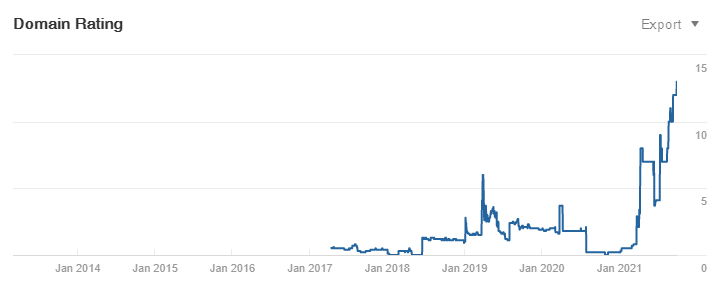 In the B2B world, speed is not as important as securing higher authority placements with much higher trusted metrics. When it comes to selling links to other businesses, reputation is crucial, and it works like a flywheel: the more high-trust connections you generate, the more organically linked mentions you'll get.
Keyword Examples and Result
In order for us to turn visitors into leads, it was important to focus on keywords that are strategically relevant to conversion goals. In this case, we chose 10-15 primary keywords relevant to the client's business and used 100+ variations.
We did this as these terms would describe the client perfectly. Additionally, any firm looking for a cleaning equipment supplier would have moved from awareness to consideration, bringing them a step closer to buying.
These keywords sat consistently on the first page and at the first position of the Google SERP.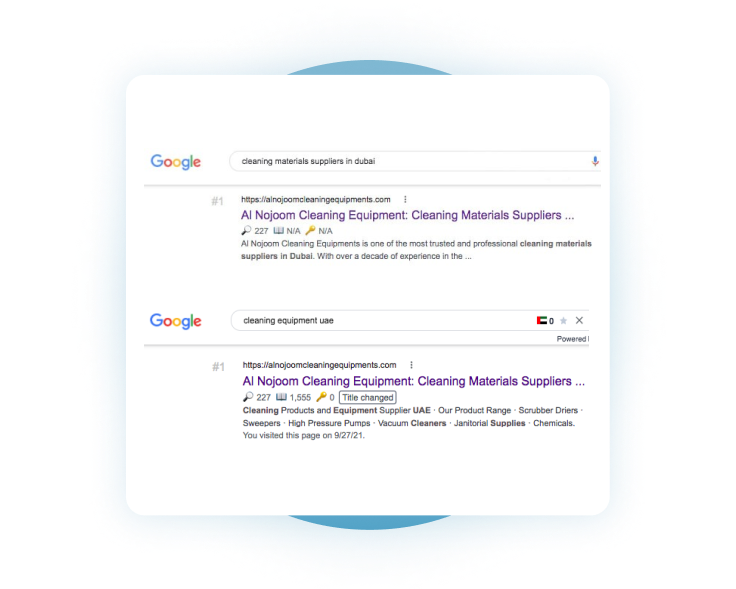 Key-phrase
Old Position

18.11.2020
New Position

25.09.2021
cleaning materials suppliers in dubai
7
1
cleaning products uae
18
1
cleaning equipment dubai
5
3
cleaning supplies dubai
7
1
cleaning products dubai
17
1
cleaning equipment suppliers dubai
5
1
cleaning equipment suppliers in uae
5
1
cleaning products in uae
18
2
cleaning items suppliers in uae
7
1
cleaning products suppliers in uae
16
1
cleaning supplies uae
6
1
cleaning equipment uae
5
1
By September 2021, the SERP positions improved significantly with all keywords ranking on the first and second page of Google search results. Out of these, 30 keywords ranked among the top 3 positions in the SERPs.
Backlinks Result

Conclusion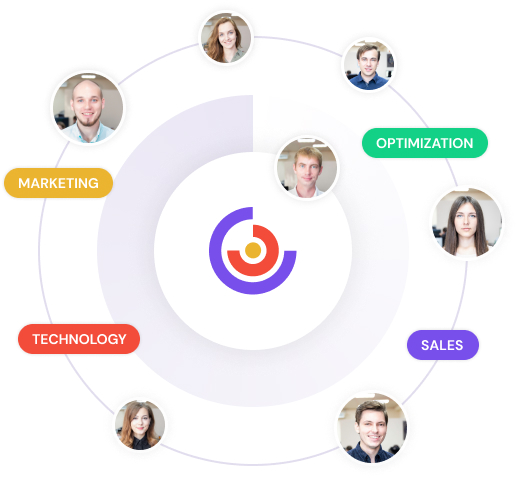 After everything has been said and done, you can assess the quality and outcome of our work. At BEONTOP, we don't make promises we can't keep, and if we do, we don't stop until the promise is kept. We kept our word and delivered exceptional results for Al Nojoom Cleaning Equipment in less time than planned. The client is pleased with the results and intends to continue working with us.
Do you also want to achieve the first position on Google SERP? You may choose from the two options below:
The first option is to contact BEONTOP.
The second option is ONLY BEONTOP!
If you want excellent search engine rankings, traffic and leads for your business, we can help!
Pricing
The price of social media optimization depends on the subject competence and the network itself. The contract on development and promotion of one group of the networks such as Facebook or Twitter, provides significant discounts on the prices of the second and subsequent groups.
Please do not hesitate to contact us for more information.