Our Monthly SEO Dubai plans provide our clients with a less complicated payment procedure. This plan, the customer has to pay a fix amount depending of the various factors which include, Number of Key-phrases, and competition levels on the keywords.
Setup
There are no hidden costs or setup fees, our account manager will provide you the best set of keywords that are most popular in searches.
The client approves the keywords and the contract is signed. and payment for the first month is paid upfront. after which , we would gain access to your website, perform in depth analysis and begin our in-house consultations to decide on the best strategy for your website.
We will provide you with a link and access to verify progress of your rankings for search results, you can verify the same at any time of the day.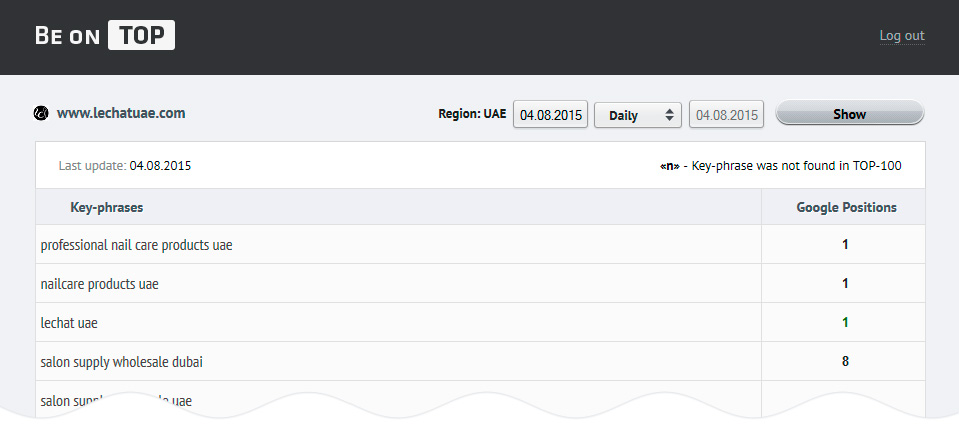 You can choose any amount of keywords you like, as you might want to increase more visitors on your website who are looking to buy your product of services.
Billing
As agreed in the contract, you will be billed a fixed amount monthly which would have to be paid before 5th of each month in advance.
Duration and termination of contract
A monthly payment contract can be signed for a year, or six months. Whatever you feel like. You can easily terminate the contract with a one months notice in written to our website. You will not be asked for any cancellation fees or lengthy cancellation progress.
Some SEO companies require the client to visit their office in person to cancel the contract, we on the other hand, simple would like you to be comfortable with however you want to cancel.
We would like to again reiterate that there will be no lengthy process or hidden fees for contract cancellation.
Contact one of our marketing professionals today!
Frequently Asked Questions [ FAQ ]
Many SEO Companies have promised results, they just take my money for three months and then say "sorry"?
Due to many cases of malpractices in the SEO industry, we offer the following guarantees mentioned in the contract
Within the first three months, we will get 15% of your selected keywords displaying you on the 1st page of Google. Within the first six months 50% and within 12 months 80%.
If any of the above commitment is not met, we will work for FREE until they are met with.
The customer can cancel a contract within one month's notice.
How will I check my positions in search results?
you will be given access to online reports, where the same can be verified 24/7 throughout the year
Are there any hidden charges?
we don't believe in hidden charges, there will be no setup fees or cancellation fees.
I have tried many SEO Dubai companies, I just can't have results, what's wrong?
Sometimes, choosing an outsourced company for SEO can cause Goggle to put a ban on your website, due to which, your website might never come up on search results, we have a strict anti-spam policy. Therefore, we incorporate in the agreement that you will not be banned by google. If you do we will have the sole responsibility to remove the said ban.
When do we start SEO for my Business website?
We can start on the same day of signing the contract. We are open from 9 – 6 weekdays, you can contact us from the contact us page.
Case Studies
wedding planners in dubai
10
wedding photographer uae
9
female wedding photographer uae
2
female videographer dubai
5
bridal photographer abu dhabi
7
bridal photographer uae
9