Custom Landing Page Design and Development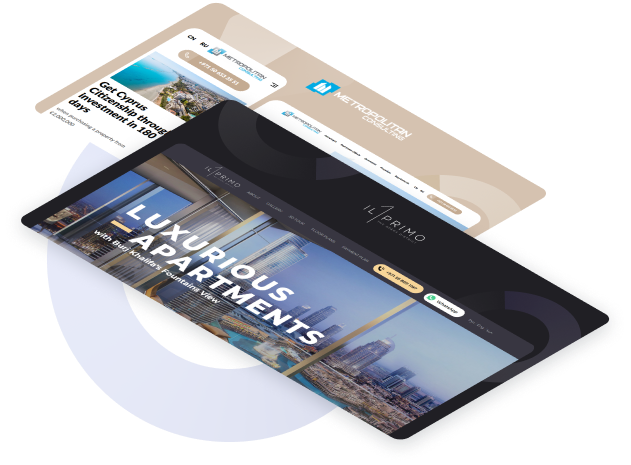 By definition, a landing page is that page on a website where the visitor initially lands. In the digital marketing spectrum, the term "landing page" refers to those web pages that are optimized for the search engine and whose goal is to capture leads and potential sales.
As one of the leading digital marketing agencies in the UAE, we at BEONTOP provides custom web design of landing pages that focus on a single goal – push website visitors to the next stage of the buyer's journey. Backed by a specialist team composed of front-end and back-end developers, UI/UX designers, and content developers, we create landing pages using our own custom-developed BEONTOP content management system (BEONTOP 6.0). To learn more about our landing page design service in Dubai, send us an inquiry today!
"Why Does Your Website Need a Well Designed and Structured Landing Page?
Because – It is one of the most potent online conversion tools available."
Importance of a Landing Page
As mentioned, landing pages are the most effective means to direct traffic onto your website through Google Ads and Social Media Campaigns. Not only does a well-designed landing page help you to stay in control, but it will also help you to monitor the impact and effectiveness of each campaign.
Apart from serving the primary goal to showcase a particular product or service, landing pages should also be able to engage and delight potential visitors with critical insights on the product or the company's industry. Listed are some of the major benefits provided by a well-designed landing page:
Increase the Effectiveness of Ad Campaigns
Helps to Promote Promotions & Offers
Improves User Experience
Generate Leads & Enquiries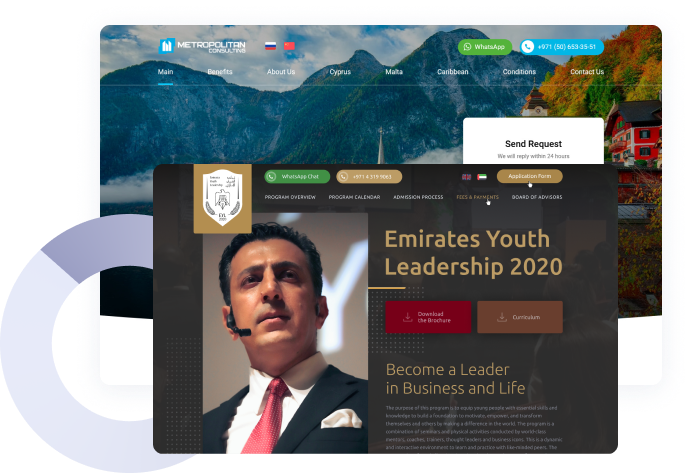 Our Service Inclusions
Service Page Design
Turn traffic into sales with a beautifully designed service landing page. With BEONTOP 6.0, we can design and develop service pages that will enable your business or brand to shine online. We ensure that each service we create is optimized for the search engine, mobile responsive, and user friendly.
E-Commerce Page Design
Unlike a scroll-through website showcasing a company's service or product, Ecommerce websites are built to generate sales and revenue through the online platform. With our own custom-developed BEONTOP CMS, we can design and develop E-Commerce landing pages that provide an excellent shopping experience to customers.
Custom Page Design
Custom landing pages are those which are specially optimized as per individual business requirements and designed to achieve specific business goals. We specialize in creating custom landing pages in line with the demands of the target audience and individual conversion goals. Our custom-developed CMS also enables users to make edits to the on-page content, images, and design, if and when required.
Key Elements of a Good Landing Page
A "good" landing page can be defined as one that is able to clearly define a product or services' value to its audience and thereby generate leads. However, when it comes to designing a landing page, there is no "one-size-fits-all" formula. To create a landing page that will help you to accomplish your business objectives, you will need to consider several elements and make these elements the best they can be. Mentioned below are some of the key points to consider:

Focus
An introductory video/explainer image detailing the offer or promotion and its value to the customer.

USP
A catchy and attractive Call-for-Action or USP.

Content
Concise and compelling on-page content.

Socials
Customer testimonials/social proof to back your claims.

Visitors
Conversion/Subscription form to turn potential visitors to business leads.

Answers
Answers to common questions

Page Structure
Clearly defined page structure
How We Create Landing Pages That Convert
Although the basic principle behind creating a landing page is simple enough, actually designing a successful landing page will require detailed planning and creative testing. Listed below is the typical process that we follow to create landing pages:

Understanding the Client's Business Objectives
Before undertaking any landing page design project, we shall first sit down with the client to understand his/her specific business goals and objectives. How we proceed with creating the landing page is entirely dependent on the client's vision, e.g., if the goal is to push visitors to sign up for a webinar, then the page design should be for the same.

Market Research
Once we get a clear picture of your goal and vision, we will conduct detailed market research on your specific product or service and analyze the key elements that a visitor may like on your page. We also take into consideration the guidelines specified by Google.

Page Structuring
An effective landing page is not one that is just put together on the fly. All the visual elements, such as the on-page text, design, and images, should be neatly placed in sectors and in a way that will help you to attract the visitors' attention almost immediately. All the necessary information, such as the text and images, are collected from the client at this stage.
Page Design
For any landing page, we first create the on-page design in sketch, which upon approval from the client, is then hand-coded by our developers. By using our own custom-designed CMS, we easily customize and improve on the design, as and when required by the client.

Development
Upon receiving approval for the landing page layout, we proceed to create the page layout for the mobile version. Once it's done, all the design elements are converted to HTML by our developers.

Test
Once all the key elements are approved, we'll upload the page onto the test server to test the page's functionality, usability, and responsiveness. We are more than happy to fine-tune the finer details and thereby deliver an end product that will provide the client with the desired results.

Launch & Content Optimization
Once the landing page is ready for the world to see, we'll transfer the page from the test server onto the live website. After the page has been made live, we'll proceed with the landing optimization and thereby make the page more SERP-friendly.