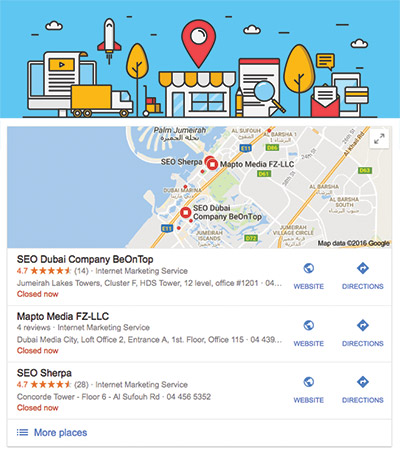 The first position is hard to earn. The same phenomenon applies on SEO and citation. You might know the definition of Co-citation, but this is not where it ends. The impact is enormous in the sphere of local search.
Citation in SEO:
This is simply an online mention of your company name and contact details on different listing and directory websites.
If you are one of those popular service providers on the Internet, then you might grab the Google attention and have a chance of being the first in Local SEO and search engine results page (SERP).
According to our observations and several years of experience, we have created result oriented rules that must be followed before submitting information about your firm on such projects.
Rules for Submitting Information on Listings and Directories
The brand name on all websites should be written as it is on your Google Business Page.
The identical address must be used on all websites and necessarily with the office or shop number.
Phone IDs should always be the same.
The text of Company Introduction on each website should be up to 95% unique and should be crafted with at least 300 words
The consistency is the main aspect of success. Businesses or companies that overlook this important factor and create inconsistent citations usually end up on the last page. Even if you change your office location or phone number, don't forget to update the existing online directories.
If you will stick to these attributes you will definitely be the first company in Dubai and the UAE in Organic Search and Google Map.
We have collected almost all available UAE listings and directories and share with you
| No. | Domain | Language |
| --- | --- | --- |
| 1 | yello.ae | English |
| 2 | dubaibizdirectory.com | English |
| 3 | yelloyello.com | English |
| 4 | expressbusinessdirectory.com | English |
| 5 | getlisteduae.com | English |
| 6 | uaebusinessdirectory.com | English |
| 7 | dayofdubai.com | English |
| 8 | brownbook.net | English |
| 9 | yellow.place | English |
| 10 | b2bco.com | English |
| 11 | uae.chizzin.com | English |
| 12 | gust.com | English |
| 13 | sulekha.ae | English |
| 14 | dubai.locanto.ae | English |
| 15 | dubai-bb.com | English |
| 16 | abudhabidubai.com | English |
| 17 | sharjahclassifieds.com | English |
| 18 | kallivalli.ae | English |
| 19 | abudhabiclassifieds.com | English |
| 20 | bibango.com | English |
| 21 | uaeplusplus.com | English |
| 22 | muamat.com | English |
| 23 | dubai.yalwa.ae | English |
| 24 | ae.enrollbusiness.com | English |
| 25 | b2b-uae.ae | English |
| 26 | servicebasket.ae | English |
| 27 | dubaiclassified.com | English |
| 28 | zapnik.com | English |
| 29 | angloinfo.com/dubai | English |
| 30 | totaldubai.com | English |
| 31 | guide2dubai.com | English |
| 32 | vivauae.com | English |
| 33 | frippo.com/?d=AE | English |
| 34 | liveuae.com | English |
| 35 | emiratesmarble.com | English |
| 36 | kargal.ae | English |
| 37 | kabayan.ae | English |
| 38 | citysearch.ae | English |
| 39 | classifieds.hotline.ae | English |
| 40 | yallalist.com | English |
| 41 | arabnet.me | English |
| 42 | uae.jantareview.com | English |
| 43 | biznessuae.com | English |
| 44 | 7emirate.com | English |
| 45 | hubbae.ae | English |
| 46 | uaeresults.com | English |
| 47 | ads4ae.com | English |
| 48 | onmap.ae | English |
| 49 | localsearch.ae | English |
| 50 | locate.ae | English |
| 51 | businessfinder.ae | English |
| 52 | adshare.ae | English |
| 53 | dubai.adzshare.com | English |
| 54 | aiwa.ae | English |
| 55 | dusalat.com | English |
| 56 | 2gis.ae | English |
| 57 | araboo.com | English |
| 58 | elanat.com | English |
| 59 | uae.stuffjet.com | English |
| 60 | uaeclass.com | English |
| 61 | uaepinoy.com | English |
| 62 | dubai.binjos.com | English |
| 63 | quicksale.ae | English |
| 64 | gulfjoy.com | English |
| 65 | myfreeadsuae.com | English |
| 66 | gulfclassifieds.org | English |
| 67 | emirateslist.ae | English |
| 68 | hidubai.com | English |
| 69 | ae.yazoomer.com | English |
| 70 | haiuae.com | English |
| 71 | local.infobel.ae | English |
| 72 | arabiantalks.com | English |
| 73 | uaelocaldirectory.com | English |
| 74 | yoys.ae | English |
| 75 | omanuae.net | English |
| 76 | thexl.com | English |
| 77 | ae.onshorr.com | Arabic |
| 78 | arabnet5.com | Arabic |
| 79 | dar-islam.net | Arabic |
| 80 | shofey.com | Arabic |
| 81 | baazaro.com | Arabic |
| 82 | class.moshax.com | Arabic |
| 83 | www.dubaimoon.com | Arabic |
| 84 | searchuae.ae | Arabic |
| 85 | rakmoon.com | Arabic |
| 86 | fridayfair.com | Arabic |
| 87 | sooq.masscd.com | Arabic |
| 88 | ae.dowwr.com | Arabic |
| 89 | egkwt.com | Arabic |
| 90 | orubaads.com | Arabic |
| 91 | dokanmall.com | Arabic |
| 92 | onlytick.com | Arabic |
| 93 | anjeerads.com | Arabic |
| 94 | alqrsh.com | Arabic |
| 95 | ae.souqaljomaa.com | Arabic |
| 96 | ae.wseetk.com | Arabic |
| 97 | uaedir.ae | Arabic |
| 98 | soq24.com | Arabic |
| 99 | a34z.com | Arabic |
| 100 | e3lanat-khleeg.net | Arabic |
| 101 | vipsook.com | Arabic |
| 102 | ae.luzaz.com | Arabic |
| 103 | sindibaad.com | Arabic |
| 104 | deemuae.com | Arabic |
| 105 | i-share-ads.com | Arabic |
| 106 | 23lan.com | Arabic |
| 107 | arabsook.com | Arabic |
| 108 | dubai.kolshe.com | Arabic |
| 109 | dubuynow.com | Arabic |
| 110 | kzameza.com | Arabic |
| 111 | aldalil.org | Arabic |
| 112 | souqbladek.com | Arabic |
| 113 | ae.sptechs.com | Arabic |
| 114 | ewbas.com | Arabic |
| 115 | ae.waseet.net | Arabic |
| 116 | bezaat.com | Arabic |
| 117 | mourjan.com | Arabic |
| 118 | souq4arab.com | Arabic |
| 119 | dir.exchangeff.com | Arabic |
| 120 | hi4best.com | Arabic |
| 121 | coumc.com | Arabic |
| 122 | dir.soqdirect.com | Arabic |
| 123 | eonv.net | Arabic |
| 124 | uae.chrkat.com | Arabic |
| 125 | makatbi.com | Arabic |