One of the major things which a successful SEO required is the uniqueness of the content. A copied text can never bring website ranking. The search engine is way smarter than you think it is, as it can easily detect the link from where the original wording is uploaded. Save your new page from sanctions and think about the first position on Google by eliminating the plagiarism factor.
Remember to write each and every word from scratch by yourself. Even if you are writing an article for another donor, where planned to place a backlink to your website. The minimum value required for uniqueness is 95%.
There are many duplicate content checker tools available online which are either fake or highly paid. Here in this article, we will tell you about the best-known software which we use in our SEO company in Dubai.
Plagiarism Content Checker Software TXT
If you want perfection, then this one is surely a keeper. A FREE Russian duplicate content checker tool which thoroughly verifies the uniqueness through Google.
The program divides the text into 4-5 words and checks each phrase for duplication on Google links. This process defines the percentage of uniqueness.
Download Duplicate Content Checker eTXT https://www.etxt.ru/downloads/etxt_antiplagiat.exe
How to use?
Install the software on Windows PC
Go to Settings and set the following parameters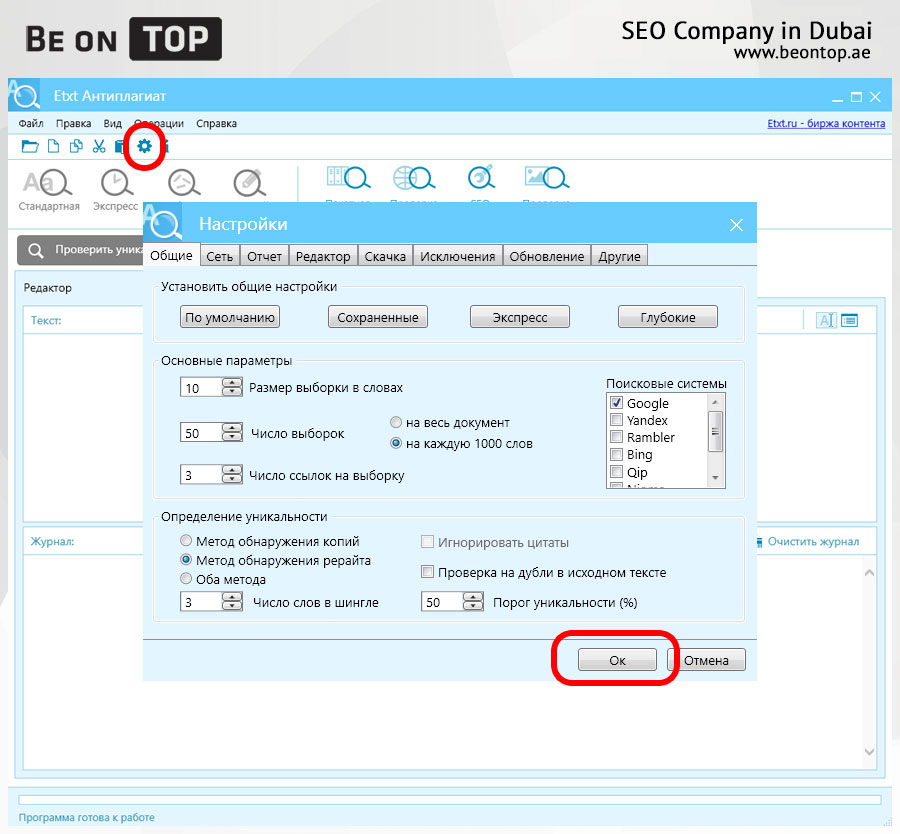 Check the written text
Simply copy all the content into the box and press "Check"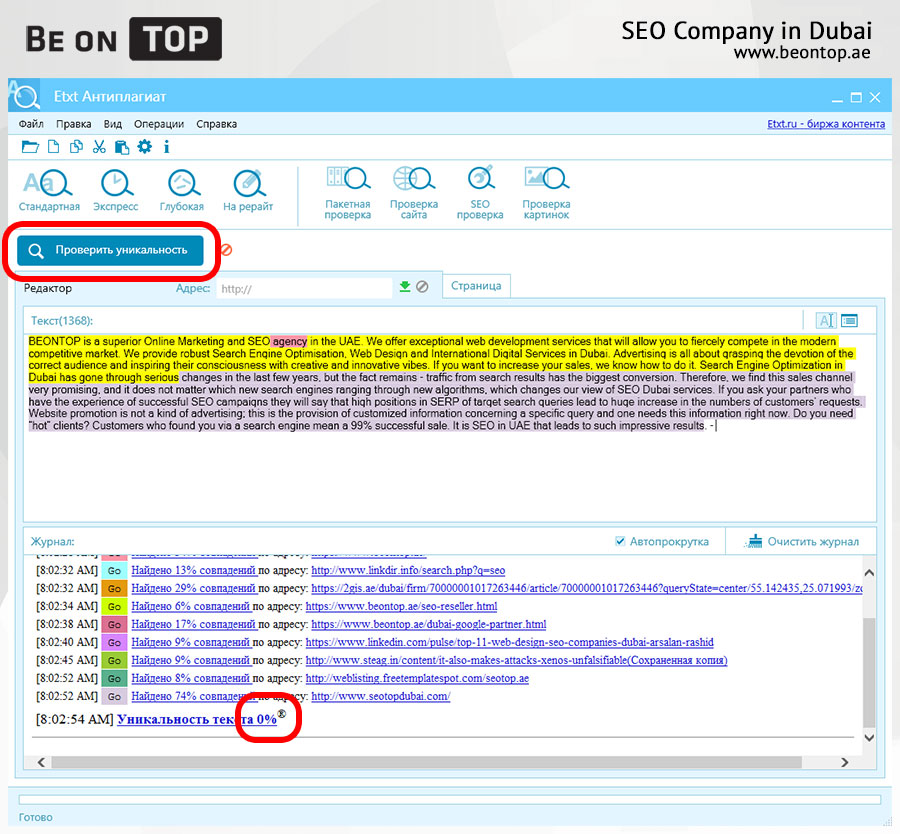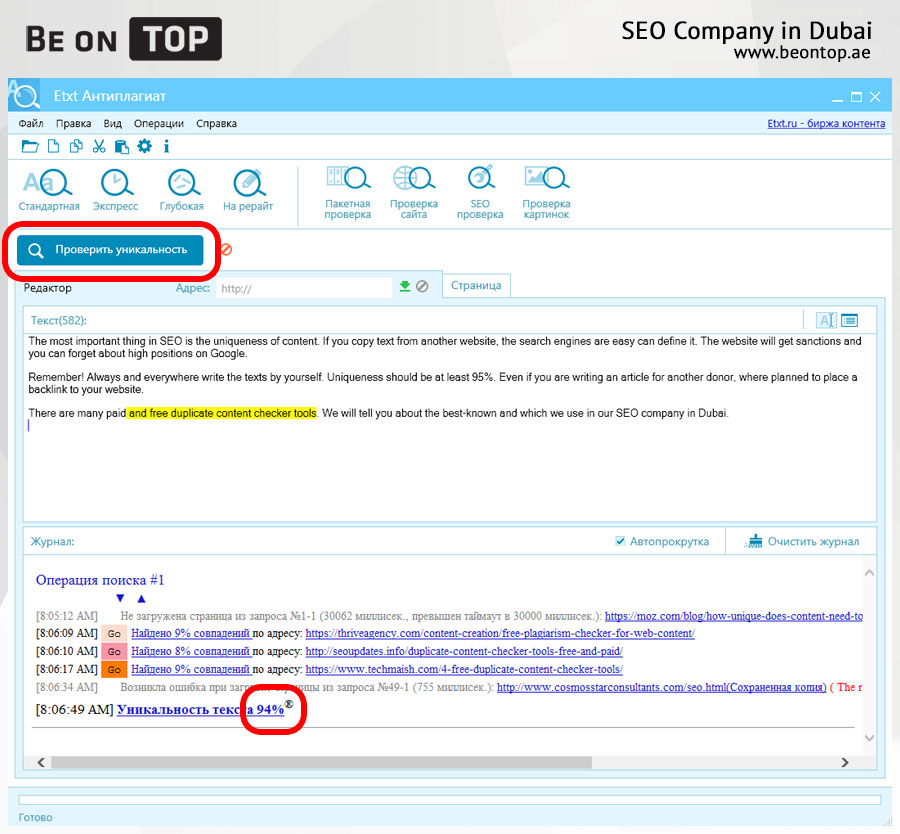 Check the website page
Copy the link of required web and then paste the URL in a special field and click on the icon stated "Upload". Then click on the "Check" button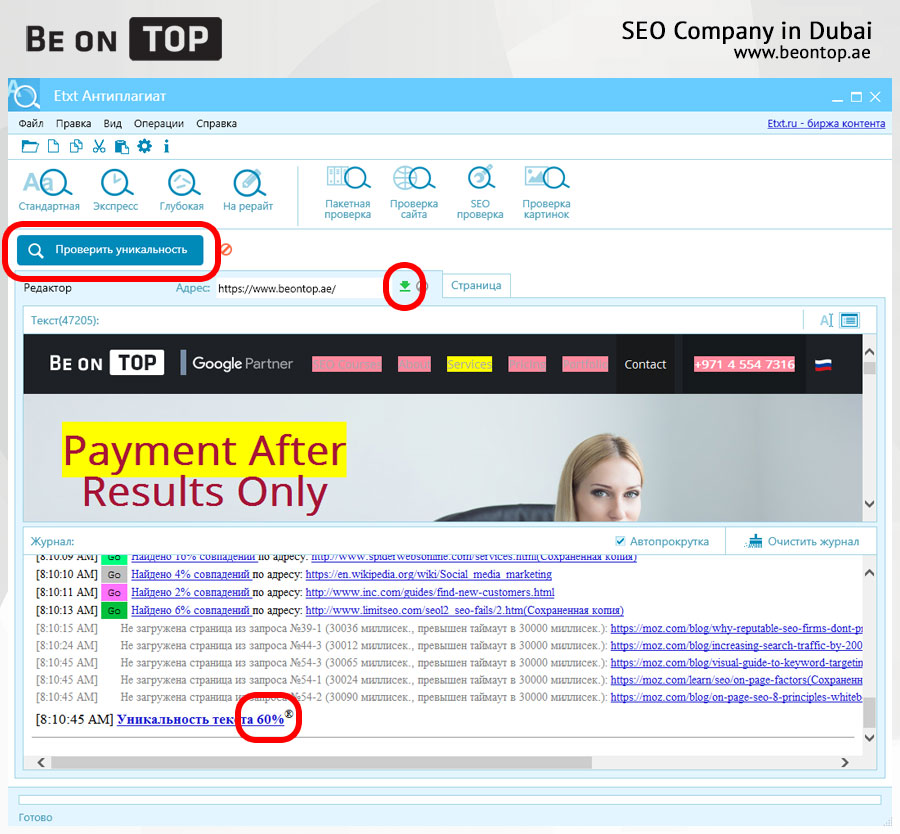 As the best result oriented SEO company in the UAE, the experts at Beontop always comply with the 95% uniqueness through this software. Usually, one page checking takes approximately 2 to 5 minutes
Other Online Duplicate Content Checker Tools
http://smallseotools.com/plagiarism-checker/
This service can identify the uniqueness of the text or uploaded file content. Text cut into segments of 75-80 characters. Maximum limit of words which could be check for copied content in a single session is 1000.
http://www.plagscan.com/plagiarism-check/
This is very good plagiarism checker. The principle of work is the same as the previous service with the same limitations.
https://searchenginereports.net/plagiarism-checker/
All results are displayed on the page. You can see exactly which segment of the text is non-unique. The maximum we can check 500 words at a time.
http://www.copyscape.com/unique-content/
The most famous service for checking duplicate content on the Internet. But this tool is paid. Only a few free checks are available daily.